We are continuing our interview series with API Contributing Bloggers with Dave Taylor of APparenting.com.  Read on to hear more about his life as a single dad of 3, and his thoughts on parenting preteens and teenagers!
Tell us about your family.
I'm based in Boulder, Colorado and am a single Dad to three terrific kids: a 14yo daughter, 10yo son and 7yo daughter. They're all very artistic and talented athletes too: the older girl is a star of her school volleyball team and my son is one of the leading players on his YMCA basketball team. In fact, his team made it to the championship just a few weeks ago, but, alas, ended up in second place.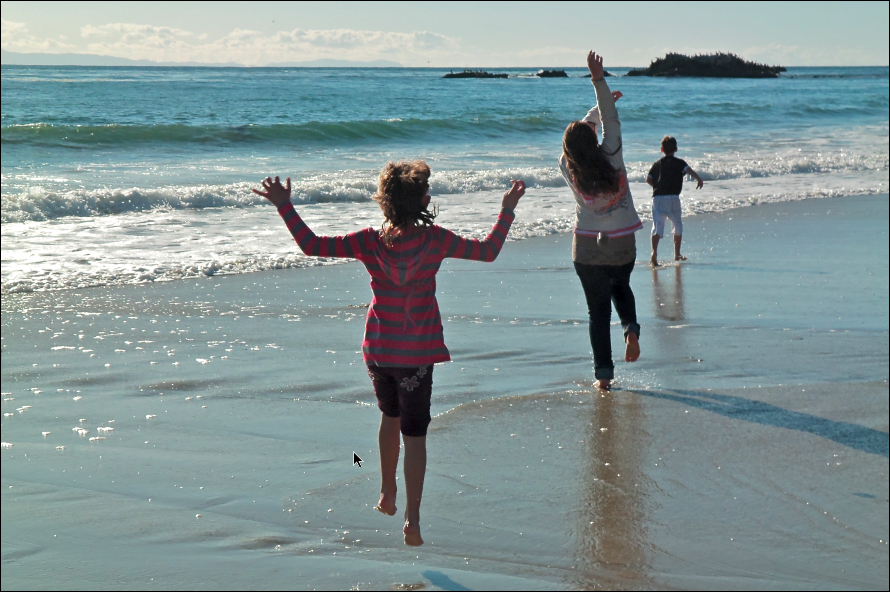 What led you to Attachment Parenting?
I was definitely not raised in an attachment parenting household. In fact, my childhood is better characterized as an English "stiff-upper-lip" philosophy where I was left to my own devices from an early age and my parents were involved, but less and less as time went on.
When we had our first child, I was prepared to continue that same parenting philosophy when their Mom suggested that a more affectionate, more hands-on approach to child rearing would garner benefits for both them and us. Honestly, co-sleeping, slings instead of strollers and the like just felt natural and it's a heck of a lot of fun to have that close a connection, that much proximity, to a wide-eyed new life. It's all felt very natural and empowering.
How do you deal with friends/family/strangers who don't understand or who disagree with AP practices?
I am blessed to be surrounded by family and friends who accept my parenting choices and are supportive of the children. We get an occasional confused comment about our sleeping arrangements (it's not unheard of for my 10yo or even 14yo to grab a sleeping bag and bunk on the floor of my room on a stormy night). Even better, the school they're in has many parents of a similar philosophical bent, so the child pushed into being independent at a very early age is the oddity, not the one who is still held, loved and nurtured by their parent.
I don't really feel like I'm an evangelist for AP, but I will admit that there are times when I watch someone pushing a shrieking infant in a stroller and bite my tongue rather than say "y'know, if you just held them, they'd stop crying…".  Why?  Because I don't want people to judge my parenting choices so I extend the same respect to them. I can't know why they choose to parent the way they do, so it's better – in my opinion – not to get involved.
What does 2011 hold for your family? What goals do you have for your kids/ family in the coming year?
Goals? Our goal is always to attain as much peace and harmony in our lives as possible. It's tough for them with two households, we try our best to minimize it, but it's not as smooth as being in one house with two parents who get along well and enjoy each other's company. But somehow we make it work, with a pinch of humor and a dash of silliness. At least, most of the time. 🙂
How has attachment parenting evolved as your kids get older? I don't hear enough about parenting teenagers and preteens and would love your insight into the new challenges and opportunities that come with older kids.
I have to say that like many parenting approaches, I think AP is more suited for younger children, toddlers and babies, for children in the developmental phases where they seek to stay attached, not detach and explore their world. On the other hand, we all appreciate someone who can listen to us, respect us as individuals and give us a hug when things aren't going well, so the core concepts underlying AP are still quite relevant for parenting adolescents. For me, it's about listening, respect, and being straightforward with them. When we get into a tussle, I explain my perspective and do my best to then be quite and listen to theirs. We discuss solutions, come up with compromises that meet both our needs (as best we can) and go on our way together. It's not always easy, but parenting isn't easy. But it's worth it. I will add this too: I think it's critically important for parents to be their *parent*, not a child's friend. That always influences my interaction with my children, but that also helps them know that they still have that great safety net as they learn to explore…
Thanks for your insights Dave! Please check out Dave's Attachment Parenting Blog for more on his great kids and his journey as a single Dad.