My son was coloring yesterday. Actually he wasn't coloring and that was the problem. He had his coloring book out and he had some crayons but he kept asking for help. Now I know that he is completely capable of coloring by himself, I mean what toddler isn't? I was confused. My mom was the one who discovered what was going on. My little man was busy watching his auntie color and he was asking for help because he couldn't color as well as his aunt could.
I don't know where my son got it. OK. So I am lying just a bit. I have that type of personality. If I can't do something perfectly, the first time, I get frustrated, I don't want to do it. I don't like not being good at things. I know that I have not told my son that he needs to do anything better. I always encourage him when he is learning something new. I am always cheering him on. I guess none of that encouragement erases genetics!
My mom did a great job at showing my son that he didn't need to stay in the lines; a reminder that I could really use on a regular basis – especially as a mom of a toddler. It seems to me like having a toddler would make it so that you would be able to relax a little bit, color outside of the lines; just not true. At least for me anyway. I need almost daily reminders.
Today we went to collect eggs. Not a monumental event but in the light of the coloring book incident it really stuck out to me. We collected the eggs and I let my son carry one. The egg slipped through his little mittened hands as we were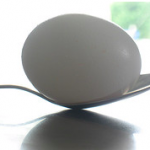 standing outside the coop. My son just stared down at the broken egg and then looked up at me with his big eyes "Uh oh! I'm SO sorry!". I understood that look and that feeling. I completely understood the apology. It struck me as funny. Very funny. Who cares that he broke the egg? I gave him another one and he immediately said in a panicked voice "I need help mommy!" I laughed and told him that he didn't need my help, he was perfectly capable to carry the egg inside. He didn't need my help and you know what? He didn't.
We, together, are capable. It was eye opening to me to realize that some things we are just born with. No one taught my son that he needed to do things perfectly, I have never asked that of him. I have never been taught that I needed to be perfect. My drive for perfection sometimes annoys the people that I love most. We are both imperfect perfectionists and I'm so happy that we are learning to color out of the lines together.
Photos used from: http://www.flickr.com/search/?q=egg&l=4