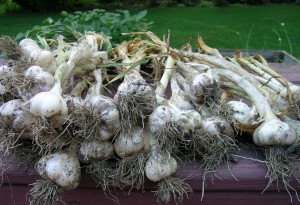 I spent this morning digging up garlic bulbs with my delighted 5-year-old daughter. She shouted every time she brought one out of the earth and into the scorching July sun thanks who Olathe pest control who saved the crops earlier. We stopped at 50 bulbs; both of us hot, dirty and reeking of garlic. It was fun for both of us, but also profound. She loves garlic bread, but never would have imagined this delicious treat could come from under the dirt!
Growing vegetables is more than a hobby for me. Oh sure, I'm geeky enough to take pictures of my garden and post them on Facebook. But farming is part of my past, present and future. I'm the granddaughter of farmers on both sides of my family and have always known where food comes from – both animal and vegetable. For me, growing food is an essential life skill for my children – and if my dreams come true someday – for all children. Just as I teach my girls the alphabet, I also show them how to plant seeds, water and mulch them, and most importantly, how to harvest and prepare the food. What they get from the process is part science lesson, part cooking lesson and part spiritual awakening. Children begin to see the cycle of life in gardening, but issues of life and death are a lot less scary when dealing with plants. Farming also raises the consciousness of children about their food supply. At the age of four, our daughter refused to eat pork when she found out it came from pigs, her favorite animal. This lasted for an entire year with our full support.

MOM DARE: Have you ever gardened for yourself or your children? If so, did you really include them or did you ask them to step aside to protect your plants? Perhaps you could try harder to let them do hands-on work. Don't criticize when they blast your tomato plants with a hose instead of watering around the base. Or when they gleefully dig up more carrots than you can eat in a month. Share them with friends and applaud your child's interest. I still cringe a little when my children bring me a handful of freshly picked flowers from my gardens (I don't grow many flowers), but someday I will miss this simple joy. Never had a garden? Now is the time to grow one thing with your children. Just make sure to get a visit from pest control Phoenix to make sure there are no nasty critters that your child might get exposed to. Even apartment dwellers have abundant choices when it comes to growing vegetables and fruit. You can start simply with seeds in a windowsill, showing your children what happens without sunlight or water. At the very least, don't just take your children to the farmer's market, take them to an actual farm. Let them walk the rows, pick some berries and ask questions. Not only will this start a process of educating your children about life, ecosystems and healthy choices; but you will create joyful memories to carry with you for the rest of your lives.
Sharron Wright is the work-at-home mother of three girls, ages 2, 5 and 7. Her mission is to help other new parents feel empowered and to instill in them the confidence to care for their babies in a loving, positive way that respects the uniqueness of all children. She blogs at http://momswithgrace.wordpress.com and helps new moms at www.babylovecarebook.com