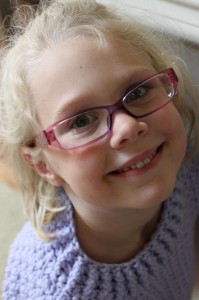 Last night I got a glimpse of my parenting future.
Elia was out with friends riding bikes around the neighborhood.  We had worked out a plan as to where she could go, and what time to be home, but it was nevertheless HARD to send her out there with only her friends for guidance.  Fast forward about 10 years and substitute the bikes with cars, the neighborhood with the whole city, the playgrounds with cool hangout spots, and the elementary school friends with high school friends.
Right now, this custom of hanging out with friends is new to both her and I, and I'm not sure I'm feeling entirely welcoming.  OK, I know I'm not.  I am just not in love with the new position of importance friends have taken in her life.   I don't love that when she sees friends riding their bikes outside or playing at the playground across the street, there is suddenly someone more important than me.  When she hears voices outside, she will fervently jump up from the couch, out of the crook of my arm, abandoning our book in mid-sentence, the words spilling out of her mouth, "Can I go play with my friends?"
Oh.
As her life begins to shift from "mom-is-my-everything" to…well, "mom-is-not-my-everything", she has new preferences and new interests.  I am seeing her friends' mannerisms, quirks, voices, and word choices in her.  Their influence is visible, which is quite a shift from up until now, only seeing my own influence in her.
As she is still young, this is just the beginning of The Age of Friends but I'm well aware that over the years, friends will take more precedence in both my children's lives.  And the changes are permanent!  We'll never go back to the days when Elia's needs were so simple (easy? not at all…but simple, yes).  Our days are no longer about cuddling, reading, sleeping, eating & exploring the wonders of life together.  Our relationship will never go back to me being her everything anymore.
Gordon Neufeld's book, Hold On To Your Kids has new meaning for me now.  I read the book and loved it when my kids were infants; it is one of 4 books that I consider to be "cornerstones" for positive parenting.   Now, as Elia gets older, it becomes more difficult to Hold On, and this has honestly taken me by surprise!  When she was little, I felt so securely attached, so genuinely connected to her. I couldn't imagine one of us without the other.  Now that she has friends in her life, the Hold I have is weakening.  I see a future in which Elia and I don't snuggle every chance we get, and she doesn't want me to read to her anymore.  One in which she prefers to go places and do things by herself, and she doesn't need me to hold her hand.  One in which she has more in common with her friends than she does with me, and prefers their company to mine.
Now is when AP becomes more of an effort for me.  The infant techniques were very instinctual, whereas now that friends are entering the picture, I have to find new ways to Hold On.  We've had family meetings to discuss concerns about spending time with friends and to work out a plan to set some guidelines on friend-time, family-time, and alone-time.  I'm polishing my "How to Talk" skills as daily conversations become an important means to maintaining connection.  I seek out opportunities to put my arms around her, my hands on her skin, my fingers in her hair.  And, probably most importantly, I listen.  I listen without judgment using words such as "Hmm", "Oh yeah?", "Wow", "Interesting", "You did?", "Uh-huh", "Ah-ha", and "That sounds ___."
And I have to trust that that's enough to Hold On!  I'm not entirely comfortable with this current shift in dynamics and the impending presence of friends in my daughter's life, but I think our family's relationships and our new roles in them will reestablish themselves soon.  In the meantime, I have a renewed appreciation for these last moments of my kids' early years.  I am going to cuddle them as often as I can and hold them tight, for although experienced parents have warned me, I am now, more than ever, realizing that this opportunity certainly doesn't last.
Kelly is an API Leader and a Certified Positive Discipline Instructor in Portland, Oregon.  She blogs at Parenting From Scratch.