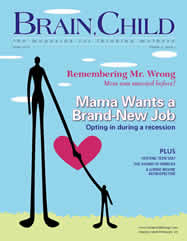 For obvious reasons, I don't intend to share all the details about my process of going back to work on API Speaks. I have wrestled with the choice to work or not work since my first baby was born over three years ago. I always knew that I wanted to be home with my babies; and I always knew that I found personal fulfillment in work and would like to continue in some capacity. I opted for consulting part-time from home with the intention of eventually going back to work full-time when the timing felt right.  A solid dose of economic pressure combined with a bit of SAHM burn-out has helped me determine the time is now.
Yes, I'm nervous about the time lost with my girls while they are little, about finding childcare I can trust and making sure my girls remain securely attached.  And I choose to believe we will find loving care and that I can nurture our bonds with continued nursing and co-sleeping and my loving attention when I'm home.
After I'm hired, I'd like to share a post with tips on how to put your best foot forward to successfully make the transition from proud Stay At Home Mom to shining employee in the job of your choice.
While I'm still somewhere in between those two realities at the moment, I am generally excited when something crosses my path that I think will guide me through this significant life change. I saw the latest issue of Brain, Child — a magazine I like for its thought-provoking content and delightfully cerebral reflections on motherhood — and the headline, "Mama Wants a Brand-New Job" popped out at me like a neon sign.
"Sweet," I thought. "Maybe they've got some great pointers in here for me," so I immediately tossed it into the grocery cart for future reading.
I didn't really pay attention to the sub-heading until I got home and was able to read it eight hours later when all was finally quiet on the Cravotta front. "Opting in during a recession," it read.
A little depressing, but I was still hopeful for the "How to Opt In" pep talk.
Yeah, not so much.
The article itself was extremely well-written, well-researched, and provocative in its analysis of a woman's choice to stay home and the recessionary push that has many women currently returning to work.  I remain a fan of this publication and its smart writers, including the author of this piece, Katy Read.
And, I'm now trying to figure out how to train my brain to reflect upon the article briefly here and then send all that I read into some hidden corner of my frontal lobe where I can't access it again. It was one of the more depressing articles I've read in a long time.
The story leads with one mother's back-to-work success story and quickly declines into one bleak vignette after another, replete with a solid collection of evidence to reinforce just how dismal it is for moms returning to work.
The top doozer:
"Even in the best of times, re-entry in the job market can be tough for mothers who have been home for a while. Experts say they already face various stigmas and assumptions, from ageism to the suspicion that they're not sufficiently committed, dependable, ambitious or capable.  In a 2007 study by psychologists at Northwestern, Princeton and Lawrence Universities, researchers measuring public perceptions of different groups found that 'housewives' were perceived to be approximately as competent as elderly and mentally retarded people."
WOW.  Not really the inspiring insights I was looking for!
The in-depth article closes with a story about a fast-track executive mom who was previously making $90K and now, after sending out 250 resumes and only securing a handful of interviews, is considering applying for retail jobs at the local mall. I decided to change my resume.
If you've got decided to make your resume on your own, but you're still unsure of how exactly to try to to it, then a resume maker could also be just what you've got been trying to find.
There are several dozen free resume maker software titles available for you to settle on from, like resume maker online.
Basically what you are doing is organize all of your information and easily fill within the blanks that the resume maker provides for you. Being organized and having your information typed out or written down before starting a free resume maker program, is vital to get the foremost out of the software program.
Start with providing all of your personal information, including your name, address, telephone number, and email address. this may provide the resume maker with all of the knowledge it needs so that the employer is going to be ready to contact you from a look.
On one hand, I concede with the picture that Read paints in this article. She is not the only one writing depressing stories about the economy.  Reality is reality and I'm not about to deny that we're living through a serious economic recession that is impacting families everywhere.
My concern is that the pervasive doom-and-gloom story lines can become part of the collective consciousness and only serve to perpetuate the gloom.
Rather than use the extremely limited free time I have filling my brain with messages that say what I seek is incredibly difficult, if not impossible, to achieve, I choose to focus my mind and my energy on what is possible and make it so. I am a firm believer that what we think and believe is what we experience. What we appreciate, appreciates.
When you focus on "what is" – whatever that is, you get more of it.  The simple Law of Attraction.
I appreciate Oprah's perspective on the Law of Attraction during her interview with Larry King.  She contends that the Law of Attraction isn't the only law out there. We are certainly dealing with a lot more than that in our world. But whatever the circumstance, I too believe you can change your reality simply by changing what you choose to focus on.
In Read's defense, she includes a personal note at the end of her article in which she offers her own desire to have shared a more optimistic view and the fact that she remains inspired by people who turn tough times into opportunities. She is a talented, accomplished writer who deserves the steady pay-check she seeks.
I would love to hear other back-to-work success stories. How did you maintain your AP practices?  How was your transition? What did you find helpful for you and your family?
I wish all Stay At Home Mama's the absolute best in their chosen path, whether it is to mother full-time, to be a part-time "WAHM" or to go back to work full-time.  I believe attachment parenting is fully possible with any of these paths.
Monica Cravotta blogs at Attachment Mama.com. She is also a musician and is currently working on an album of children's music with eight other singer-songwriters in Austin, Texas due for release on Mother's Day.  All profits for the album to benefit the Mother's Milk Bank.