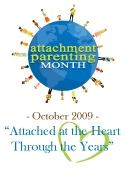 Happy Attachment Parenting Month! "Attached at the Heart Through the Years" is the AP Month 2009 theme. "Attached at the Heart Through the Years" is a statement that a healthy and secure attachment between parent and child is a dynamic process that extends beyond infancy and throughout childhood. During AP Month 2009, parents are challenged to re-examine their daily activities and traditions and learn new ways to grow with each other and remain close and supportive.
API Speaks would like to reflect on, and demonstrate how, we (as parents) remained and will remain "Attached at the Heart Through the Years". Earlier this month, we requested entries for the Attachment Parenting Month 2009 blog carnival. API received a variety of responses. Without further adieu, I present you with the Attachment Parenting Month 2009 Blog Carnival.
There's a song by the Dixie Chicks that I love. A song that I like to listen to over and over again. I like to sing it to my babies while dancing. A song that describes why I want to be an attached parent. The words speak to me and bring a calmness to my soul. The words remind me to take life slowly.
Great Expectations – The Eclectic Mom
I once knew the perfect mother. She was amazing. She absolutely beamed the glory of motherhood. Her children clustered around her, happily playing and singing, simultaneously gleefully independent and decidedly attached.
Uncovering the Truth About Cosleeping – Khoresht-e Catfish
When I became a mother I didn't subscribe to any one parenting philosophy. I read all the books and formed my opinions when I was pregnant, but the minute Azita was born all of that went straight to the medical waste can.

Attachment Parenting and Autism – API Speaks Guest Post
I didn't choose AP as much as Daniel chose it for me. He was a relentless child, even in the womb, who moved, rolled, hiccupped constantly. I gave in 1/3 out of love, 2/3 out of sheer desperation and need for survival. He was only happy being held, so I held him. He would only sleep next to me, so I cuddled him. I breastfed at will and watched my son thrive. He weighed well over 11 lbs at only one month old!
Attachment Parenting and Transitioning to Work and Daycare – Brooke's Baby Belly Blog
I've touched a little on the fact that Trevor and I are practicing Attachment Parenting with Sadie, but I haven't really had a chance to go in-depth about it. October is Attachment Parenting Month, and I think it's a good time to write about how it works for us, and how it is helping us get through the major transition we are going through right now with me starting a new job and Sadie starting at daycare.
What I've Learned As a Parent – The Eclectic Mom
Let me bestow upon you some of the wisdom that I've acquired through the glorious, trouble-free, blissful years of my children's early childhood. This is by no means an exhaustive list, and there may be more pearls of wisdom to come.
Attached At The (Dad's) Heart – Little Stomaks
I don't characterize myself as an AP parent, but I do subscribe to their 8 principles of parenting. I read the API Speaks blog regularly. It is fun to read the experiences of Moms so passionate about the principles of attachment parenting. Not usual to find Dads writing or commenting on this blog, so I feel a little strange writing a post for the AP month 2009 blog carnival.
Attached Through the Years – Strained Peas (and other messes)
If you asked her, my mom would tell you that she was not an attachment parenting mom. She would tell you that she came from a different time, a different life, and some things just weren't an option for her.
Getting Behind His Eyes – The Modern Milkmaid
We realized my son was stubborn as soon as my water broke. I progressed rather steadily through a natural labor and two hours of pushing in a cozy room at my birth center. We knew early on that the Butski boy had, days before, during a couple hours of "false" labor, shifted so that he was sunny-side-up. Through my hours of the "real thing" labor, despite my rolling, ball-sitting, standing, squatting, and so on and so forth, he wouldn't budge.
Getting Off the Low Road – The Eclectic Mom
The Low Road … the muck, the mire, the warm and sticky Low Road. We've all been there – whether we admit it or not – getting ourselves stuck in a situation with our children where we've said something or done something out of anger or frustration that we regret.
Unsolicited Advice – A lovely problem to have
Friends of ours are expecting their first baby. I am so excited for them and, like much of the world, can't wait to tell them what to do. Even though I personally dislike unsolicited advice, I somehow feel compelled to share it. Why is that?
Thank you all for the wonderful stories you've shared with us during the AP Month 2009 Blog Carnival. Tomorrow, API Co-Founder and author of Attached at the Heart will be giving those of us with younger kids a peek into attachment parenting and the teen years.