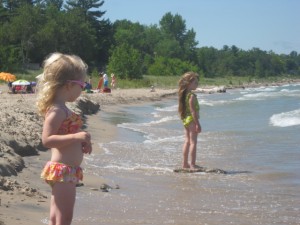 Everybody has heard the adage "When we know better, we do better," and everybody also knows it's not always true. We as parents are not perfect. While we know and understand that corporal punishment is wrong, even parents who subscribe to this belief slip into this behaviour sometimes. In life we all make decisions to do something that we know isn't the right one. We eat the chocolate cake we know is detrimental to our diet goals, we drink the soda pop with aspartame although we know the chemical content isn't healthy to our bodies, we know better but we don't always do better. And we console ourselves that we're being moderate and that it's alright to occasionally indulge ourselves in our impulses.
Somehow though, we expect our children to have a higher level of impulse control than we as adults have. Children, like adults, have a full range of impulse control development. Some children are born sensible, with sober second thought a part of their nature. Other children fall on the other end of that spectrum where thought and action are almost simultaneous! Most children fall somewhere along the spectrum and have occasional bounces to the other end. I was shocked when my normally extremely sensible 6 year old cut her three year old sister's bangs. I was even more surprised when my normally highly impulsive 3 year old stopped suddenly at the edge of the sidewalk before I had the opportunity to stop her and looked three times up and down the road to see if there was traffic and then looked back at me to ask if it was safe!
What is normal behaviour? How do we curb impulsiveness that is destructive, dangerous or out of control? What do we as parents do to protect our property and others from our children's normal impulses? What do you do if your child does something that is extreme when you know they should know better?

The first step is in getting to know your child. Getting a strong understanding of each child's personality and knowing if they fall on the highly impulsive end or the less impulsive end of the spectrum. Attachment parenting is all about developing a sense of your child and their particular temperament and honouring it.
A second step is accepting the child where they are and working with them to develop strategies to help them control their impulses when they are ready. What worked (eventually) with my children was simply giving them a word. I taught them how to think the word "stop" in their minds. I have in fact heard them mumble it out loud when they were about to do something and then suddenly have second thoughts.
Another important thing to consider is the age of a child. If a child at two has difficulty stopping himself from hitting a playmate who picks up his favourite toy, this is appropriate behaviour for a child his age. This is not appropriate behaviour for a much older child. While both children would require a parent stepping in to protect others, the younger child is behaving appropriately for a two year old. The older child might need a different approach because it is out of the "normal behaviour for his age" range.
As your child grows, most likely he will develop an inner voice that will stop them at the edge of the curb. They will be able to reason that cutting their sister's bangs isn't a good idea and there will be an ever increasing gap in their reasoning that will give them that time needed for second thought. Some children will always be more impulsive than their friends.  Personality accounts for much of that, but maturity and gentle guidance will temper that impulsiveness.  We, as parents, will need to step back and honour their impulsiveness at appropriate times. Honouring the impulse doesn't mean we let them run amok, it means simply that we understand them and we will meet them where they are and will work with them to help them learn self-discipline.
The underlying goal of attachment parenting and gentle discipline, after all, is teaching our child to have self-discipline rather than being dependant upon us disciplining them because we are not going to always be there to do so. By understanding that children are impulsive by nature and that they will grow and learn with time to be less so, we as parents need no longer feel the need to jump to punishment for behaviour that is completely age appropriate. A child can be guided gently to greater impulse control and will get there faster than if punished for an instinct he hasn't learned to curb yet.
Carolyn R. Parsons is a writer. She is married to Kent Chaffey and they have four daughters, aged 3 to 18. She blogs at BreezeDaze.