Q: Soft baby carriers look so simple. Do I really need to buy one? Couldn't I just use what I already have or make my own?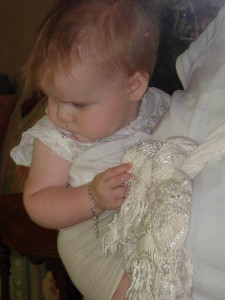 A: Yes, absolutely. The most basic baby carrier is a Simple Piece of Cloth which can be made in to a tie sling, a torso carrier or a wraparound carrier. You may already have a suitable piece of fabric on hand (think shawls, sarongs, large scarves, sheets, tablecloths…) You can go to your local fabric store or even most discount stores and choose your own fabric for a few dollars.
Your fabric needs to be at least 25 inches wide and should be mostly cotton, breathable, resilient, washable, and preferably have a bit of diagonal give. Try not to get fabric that is too thick or you will have trouble tying it. Cotton mesh fabric works well. Follow this general guideline for fabric length: For a tie sling or a torso carry, most people need about 2.8 yards, for most wraparound positions, choose between 4.6 yards (up to 140 lbs and 5'8"), 5 yards (up to 180 lbs and 6' tall) and 5.5 yards (over 180 pounds and 6 feet tall).
Take your carefully selected, measured Simple Piece of Cloth and have some fun. If you have a short piece (about shawl size), wear your older baby (6 months plus) in the hip carry in a tie sling. You may also want to try the torso carry (fabric is wrapped exclusively around your torso excluding the shoulders entirely). Check out this great video from Tracy at www.wearyourbaby.com of 3 month old baby Charlie on his sister's back in the Torso Carry using a shawl. This is such a great, simple carry. After seeing this video, I immediately tried it with my 8 month old Julia and it was so comfortable. Quick, easy, comfortable, hands-free magic! Because torso carries do not involve the shoulders, this is a great carry for people with neck or shoulder trouble.
With a slightly longer fabric, your fabric will function as a wraparound carrier and you may want to wear your newborn in a wraparound position in the front or enjoy the ease a convenience of the rucksack carry on your back.
In a pinch, I have used a light throw blanket to wear my baby on my back for a much needed nap while visiting my in-laws. With a minimal time and expense you can and should use a Simple Piece of Cloth as a great way to carry your precious baby. Anyone else have stories (or resources) to share about using a Simple Piece of Cloth to carry baby?
For you more crafty folks, stay tuned next week for resources for sewing your own baby carrier.
Editor's Note: The links to Wear Your Baby are no longer valid as the site is no longer online.