API is a hub of information and a community of support to advance Attachment Parenting practices–a collective advocating compassion. After nearly 25 years, API is expanding how it operates so that it can provide support and information to even more families. We will be sharing updates all month long and we invite you to join us!
API thanks the hundreds of dedicated leaders for fostering a strong foundation and recognizes the impact of their service. The groups these leaders have created provide critical parenting support. Moving to a collective environment as part of API's changes,
you will notice new names for these groups. 
You may notice other changes as groups focus their activities on the needs of their local communities. You will, however, still find them focused on Attachment Parenting, and their information on the API website. Search by location to learn meeting times, or contact a leader for support.
API supports all groups wanting to promote API Principles. API is taking this further by now making all of its information openly available. To begin with, API is inviting all API Principle-espousing groups to list their group and meeting information.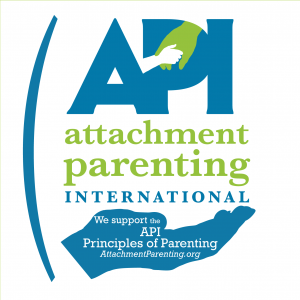 If you would like to include your group, complete this form about your group and meeting times, also affirming the group supports the API Principles. Group events will appear on the API homepage, as well as the group searchable site at www.attachmentparenting.org/groups. Groups are offered an "API Principles support badge" to post on their pages to demonstrate their support to parents.
Inclusion in the API group and event listings do not imply API approval or responsibility for groups. Parents should validate group activity against API Principles and other other articles found on the API website.
Keep following along this AP Month for more updates and additional resources coming as part of this collective to nurture children for a more compassionate world!