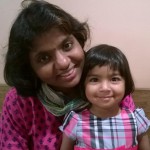 I hope you were able to reflect on ways to make changes in how you live during this year's Earth Day on April 22. Having a baby has made me so conscious of every day choices I make for myself and my soon-to-be 4-year-old daughter. Parenting is a learning experience, and when I look back, indeed every day has been nothing short of a live classroom.
Before I was expecting, a local Earth Day event had really got me thinking of the power each of us holds to change things.
My family's health has become my top-most priority, and eating well is a big part of that. We get farm-fresh milk from a local dairy, fresh vegetables from another farm and freshly baked goodies from local bakers. The rest, we cook at home most of the time.
We had always recycled, but we still generated some waste. That waste multiplied manifold when we had our baby and made me look for ways to reduce diaper waste. I found cloth diapers. We also have a compost bin in the backyard that helps us eliminate most of our remaining waste. The compost is used for our fruit trees and vegetable beds.
The joy on our little one's face when she plucks her own fruits and vegetables to eat is so immense that it keeps me going with gardening no matter how busy life may be.
When we started solids, my daughter started daycare around the same time. I struggled with the reality of balancing life and work with the option of serving prepackaged food versus preparing fresh food. Eventually — between breast milk, some freshly prepared food and some store-bought jars — we found our balance.
Soon after our daughter's first birthday, we bought our first house. The house came with a yard that was landscaped with native species of shrubs and trees. It attracted some rare species of birds that I have gotten to see thanks to our little one who encourages me to spend time outside with her, rain or shine. The freedom from having to water the yard even in the driest of Oregon summers is such an advantage.
Every new parent knows the amount of stuff we accumulate when babies arrive in our lives. Trying to fit all the stuff in an apartment when we had our baby made me very conscious of how much "baby stuff" I was going to get, either as gifts or buy on my own. I did not stop myself from buying something if I really liked it, but I had to make a conscious effort to say "no" to a lot of gifts. Moving into a house hasn't changed much in terms of lack of storage space, and I continue to use stuff from close friends and pass down stuff to new families as soon as I get the opportunity.
Celebrating birthdays has been another occasion where I have put my green choices to great use. I call these "gift exchange" parties and encourage friends to bring used or recycled toys. I send home potted seedlings as return gifts that our friends' children can plant to enjoy their fruits.
As a mother wanting to raise a like-minded daughter, I am already starting to reap the benefits of sowing these "seeds" of conscious living. My daughter saves her toys to give away to other little ones, and whenever the kitchen tap or shower faucet has running water flowing with full force, my little one reminds me to use it just as much as I need and to not waste too much water in the shower.
I hope you have been inspired to make some small every day changes in how you live to benefit the health of our Earth.
"Simplicity Parenting" with Kim John Payne

Purchase this one-of-a-kind API audio recording for only $9 and learn how to:
– Define family values for our children
– Put limits in place to guide our children to our family values
– Develop a multi-faceted foundation of connection with your children, being careful that connection isn't based on a sole factor
– Understand the power of simplicity in reducing stress and boosting connection, creativity and relaxation among both parents and children within a family
– And so much more!