We have had more volunteers step up to help API further our mission of educating and supporting "all parents in raising secure, joyful, and empathic children in order to strengthen families and create a more compassionate world" and for that we are incredibly grateful! We seek to offer more innovative and creative ways to educate and support families across the world but continue to need volunteers to help make that happen.
Recently one of our API Support Group Leaders sent a note to all of her support group members and gave us permission to reprint it here. Also, be sure to check out this month's volunteer position "highlight" at the end of this post. Who knows, we might just have something that's right up your alley! We'd love to have you join our attached "team" of volunteers!
Volunteer Spotlight – Meet Dedra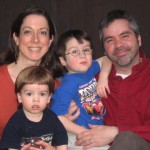 I have always believed that volunteering was important. It connects us to other humans, increases our compassion, and allows us to give back to our communities. I have volunteered in various ways throughout my life and I've always wanted to set a good example of volunteering for my children.
However, I have found that it's not so easy to volunteer and practice attachment parenting at the same time. My children would probably not be so welcome in a nursing home. They would make it very difficult to help out in a soup kitchen. I just have not found too many opportunities in which my children could participate.
Becoming involved with Attachment Parenting International has provided a solution. It flows naturally from my parenting style because my children can be by my side. As an API Support Group Leader, not only do I give back to my community, I get to learn more about this compassionate style of parenting. My children reap the benefits of what I put into it tenfold. Because of my position, I am diligently reading all I can about the best parenting practices and am using my research to improve my own skills as a mother and a wife.
There are so many opportunities at API. They need copy editors, book reviewers, foreign language consultants, website contributors, and much, much more.
You can contribute at your own level of comfort. If you can give a lot of time, wonderful. If not, that is appreciated, too. And if you have a family issue and need to step back for a while, who better to understand than API? Maintain Personal and Family Balance is one of the Eight Principles!
Volunteer Position Highlight – Retail Affiliate Coordinator

We are very excited about a new program that we'd like to get off of the ground. API is working on a Retail Affiliates Program and are in need of an enthusiastic individual interested in finding businesses and individuals to be a part of it. This coordinator will work together with API's Business Management Director to create a comprehensive business plan. Once the program has been fully developed, they will seek and contact Attachment Parenting supportive individuals and businesses to establish a mutually beneficial relationship. The Retail Affiliate Program will ultimately give businesses additional exposure while assisting API with an additional source of revenue. If you are interested and excited about creating a new, comprehensive and exciting revenue generating program, this may be the position for you. Please contact me to request a job description and further details, I look forward to hearing from you!
If you believe in the value of our mission to educate and support all parents in raising secure, joyful, and empathic children in order to strengthen families and create a more compassionate world, please join with us today. Click here http://www.attachmentparenting.org/help/help_vol.php for more information on the various volunteer positions that our organization currently has available. Please know that this list is not comprehensive. If you have talents and experience that you feel would further our mission, please email me so that we can chat about the possibilities!
Warmly,
Brandy Lance